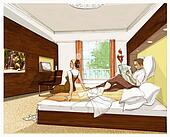 Follow my blog with Bloglovin
The midnight hustle has suffered greatly in the last couple of weeks because Hubby and I are mired in our day jobs. I've been blaming my laziness on being burned out. Today, we were talking about it and I realized that our priorities are off. We are watching plenty of TV and hanging out but we aren't putting our empty time towards making and designing new pieces unless we have an order. We aren't having our weekly business meetings or holding each other accountable to deadlines.
Yet, as we collapse on the couch at the end of the night, we both feel burned out. As we talked about it tonight, I realized that I want to change my situation. I want to write and work on our business full time. I can't do that if I don't make time for the work that I need to do to get there. Until I get there, I am going to keep feeling burned out because I am sacrificing doing what I love to do and turning all of my energy over to the job that provides the paycheck.
Again, that brings us back to the need for balance. We need our day jobs. We just have to schedule time for our business like we schedule time for our jobs or other obligations. We set a business meeting for tomorrow night to get back on track. We also decided to take a staycation day the Monday after a friend's upcoming wedding. I am hoping for sunny weather so we can hit the park with Lola during the day and have a cozy dinner on the deck at night. After the reset, hopefully, we will be back on the path with renewed tenacity.