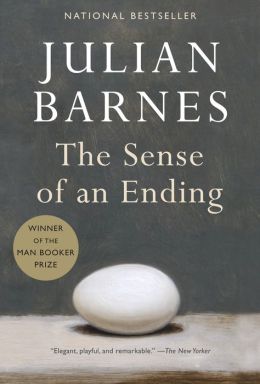 SPOILER ALERT! If you want my general impression skip to the last 2 paragraphs of this post.
The Sense of an Ending by Julian Barnes is a short novel divided into two parts. Part One of the story focuses on the relationship between friends on the verge of graduation but the book is not really a coming of age tale. The story is told from one of the boys'—Tony Webster's—point of view and starts with an explanation of how his friends are impressed by the musings of a new student (Adrian Finn). The clique befriends him and he ultimately becomes a leader of sorts in the group. There is a moment in Part One where a classmate hangs himself after purportedly finding out his girlfriend is pregnant. No one ever confirms what actually happened. It seems a strange thing to interject into the story but turns out to be an important fact later.
Eventually, the friends split and go to college. Tony meets a girlfriend (Veronica) whose acceptance he wants despite her snobbery. Their relationship is fairly tense and sexless (I add that because he makes a repeated note about it). They are serious enough that he meets her family and he introduces her to his friends. During the time spent with Tony's friends, Veronica flirts pretty shamelessly with Adrian. Shortly after that, Tony and Veronica break up. He moves on with his life and one day gets a letter from Adrian letting him know he is dating Veronica. He has a very negative reaction and writes a scathing, mean letter back to the couple. Adrian ultimately commits suicide. The friends meet up again in tribute but don't' keep close ties after that. Tony ultimately gets married, has a child, divorces and retires.
The book takes a turn (and for me hits the most interesting part) early in Part Two. Tony gets a letter from an attorney letting him know that Veronica's mother's (who he only met the one time he visited Veronica's family) left him £500 and Adrian Finn's diary. She also left a note telling Tony she thought Adrian was happy in his last months.
Tony finds out that Veronica is holding the diary and does not want to give it up. She claims she burned it. Tony doesn't believe her but he does go out with her to talk about the past. She is short but takes him to see young Adrian (Adrian's child) and provides him with a page of the diary. Tony feels bad that young Adrian has special needs and thinks about how hard it must have been for Veronica to raise him. Tony feels guilty for the words in his letter and thinks they may have had some impact on how Veronica and Adrian's life turned out.
After getting the diary page, Tony embarks on a kind of puzzle solving mission and ultimately discovers that Adrian actually had an affair with Veronica's mother. This is why she knew he was happy at the end and why she had the diary. On top of that, young Adrian is Veronica's brother.
I will admit that the first part of the book was slow reading for me. There were good parts but I didn't feel like it was something I couldn't put down. When Tony received the letter from Veronica's mom's attorney, I shifted into "Can't put it down/I must know what happens" mode. Throughout the book, there is much made out of the fact that Tony "just doesn't get it." I think I must be just like him because I would have never guessed the ending of the book. It's something right out of a soap opera. Scandalous!!
I picked up The Sense of an Ending because of a book review I read in a magazine last year. After the first couple of pages, I decided it wasn't what I thought it would be. A retiree's reflection on life isn't my idea of a quick read. The story develops slowly at first but the seemingly non-important reflections on Tony's youth become major parts of the book later on. The events and characters weave together to create a beautifully simple, unsettling and interesting story. I'd recommend this if you want a quick read (though if you've read all of this, I've pretty much spoiled it for you).